Ahmed Ololade, better known by his stage name Asake, is one of the most well-known Nigerian artists of the year 2022. The Afrobeats singer and composer was born on January 13, 1995.
His stage name pays homage to his mother, Asake, who shares his last name. His fantastic voice and memorable words have helped millions of Afrobeats lovers fall in love with his music.
Asake's Incursion To Entertainment
Asake's entertainment industry career began as a dancer. He was always good at dancing and enjoyed it. He concentrated on ethnic dance, honing his technique by practicing in his spare time. When he was a high school student, he entertained the faculty and other students at school events by doing an exhilarating step dance.
Asake, who also loved music aside from dancing that he started with, frequently pleased his close friends and students with unique compositions and renditions of well-known songs with his booming voice. In order to improve as an entertainer, he decided to sing along with his dance.
He gained fame after releasing the popular song Lady in 2020. He was signed by the label's owner, Olamide, to YBNL Records, where he became well known. Mr. Money was another song that contributed to his rise to stardom. Ololade Asake, his EP, was a huge commercial success. He is a rising talent in the Street Pop and Afrofusion music genres.
Asake, an Afro-pop musician, became well known in 2020 thanks to his outstanding song "Lady," which had a fast tempo and happy vibes. Ahmed Ololade Asake, a talented young musician and songwriter from southern Nigeria who goes by the stage name Asake Music, is from there. As was previously stated, he became well known with the publication of his wildly popular song, Lady, which received rave reviews from numerous online media sources and well-known celebrities.
Asake's Early Years and Music Career
Ahmed Ololade Asake was born on January 13th in Lagos State, Nigeria, to Mr. and Mrs. Ololade. He is a singer, performer, songwriter, media personality, and musician. He is a native of southwest Nigeria. Born and bred in Lagos State, Ahmed Ololade Asake majored in dance while studying theater and performing arts at Obafemi Awolowo University.
Asake started working as a professional musician in 2015. He lists Olamide, 9ice, Davido, Wizkid, and Wande Coal among his musical influences. He started out in the Afrobeat music industry and was known for his Afrofusion songs. He fuses Fuji, R&B, Hip Hop, and Amapiano elements to produce music that is unique from other performers.
Asake started out in music as a backup singer for Broda Shaggi's band, performing at numerous concerts and events across the nation. Later, he collaborated with Broda Shaggi on the song "Star" from 2019. Even though it was many people's first encounter to him, the song did well commercially. He made the decision to release his debut single in 2020 as a result.
Asake made his debut in the music industry with the release of the track "Lady." Together with Sydney Talker, Tunde Ednut, NastyBlaq, and Broda Shaggi, he promoted this song. After the song's success, he released "Mr. Money," which became a hit and earned him the moniker "Mr. Money." He was instantly found by Olamide, the head of YBNL Records, and shot to fame. The songs "Mr. Money" and "Sungba" were two more that aided in his rise to fame.
He started putting out music, mixing his own brand of singing and rapid freestyling with vivid Afrobeat beats. He followed up early songs like "Ayeeza" and "Kanipe" with "Lady," which launched his career. References to more well-known figures like Tunde Ednut and Broda Shaggi helped the song's audience grow. The song "Mr. Money" that he performed next went on to become one of his signature tunes. Expectations for Ololade Asake, his debut EP from 2022, were raised by the songs "Don't Hype Me" and "Yan Yan" from 2021.
Asake's biggest hit came from the EP's opening track, "Omo Ope," which featured Nigerian musician Olamide. All of this happened prior to the singer's debut album, Mr. Money with the Vibe, being released in September. Asake experienced increased popularity in the United States thanks to the album, which featured a diversified and wide-ranging blend of inspirations including Afrobeats, Fuji, classical elements, and plenty of dazzling pop. The album peaked at number 66 on the Billboard pop list.
Even though he started recording songs in 2018, his career really took off in 2020 after the song "Mr. Money" was released. Zlatan and Peruzzi then remixed the song. Before partnering with YBNL in February 2022, he continued to release singles, including "Medusa" and "Yan Yan."
In February 2022, Asake released Ololade, his debut extended play, which featured Asake's breakthrough single "Omo Ope" with Olamide. "Sungba," another popular song from the extended play, was remixed a month later and featured a verse by Nigerian rapper Burna Boy. Asake and Empire established their distribution agreement in July 2022. He collaborated with Burna Boy and released a remix for Sungba on March 28, 2022; the song topped the charts for a number of weeks.
On September 8, 2022, Asake released Mr. Money With the Vibe, his debut album, months after his debut EP. "Terminator," "Peace Be Unto You," and the Burna Boy and "Sungba" remix were among the album's top singles. The album received a lot of praise from listeners in Nigeria and other countries, and it went on to break several records internationally.
The production of Asake's music is in an upbeat Afro and Amapiano style. His music also incorporates elements of Fj. Since then, Asake has released a number of hit songs that have many of his admirers raving. Here are a few of his songs:
Lady, Palazzo, Mr. Money, Sungba, Mr. Money With The Vibe, Terminator, Body, Gbale Lo, Gegeti, Star, Trabaye, Payin, Ayeeza, Sungba Ft. Burna Boy, African Something, Nzaza, Jaho, Dupe.
Asake's Awards And Recognitions
2020 City People Music Award for Best Collaboration of the Year
The City People Music Award for Popular Song of the Year in 2020
Street Music of the Year nominations for the 2020 City People Music Awards
Asake's Current Net Worth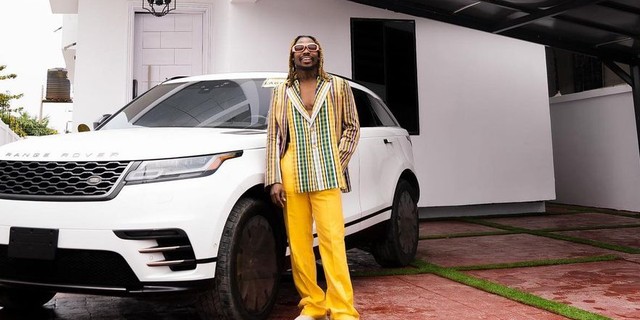 Asake's net worth is projected to be around $1.5 million as of 2022 and is mostly obtained through endorsements, partnerships, and other activities connected to his job.